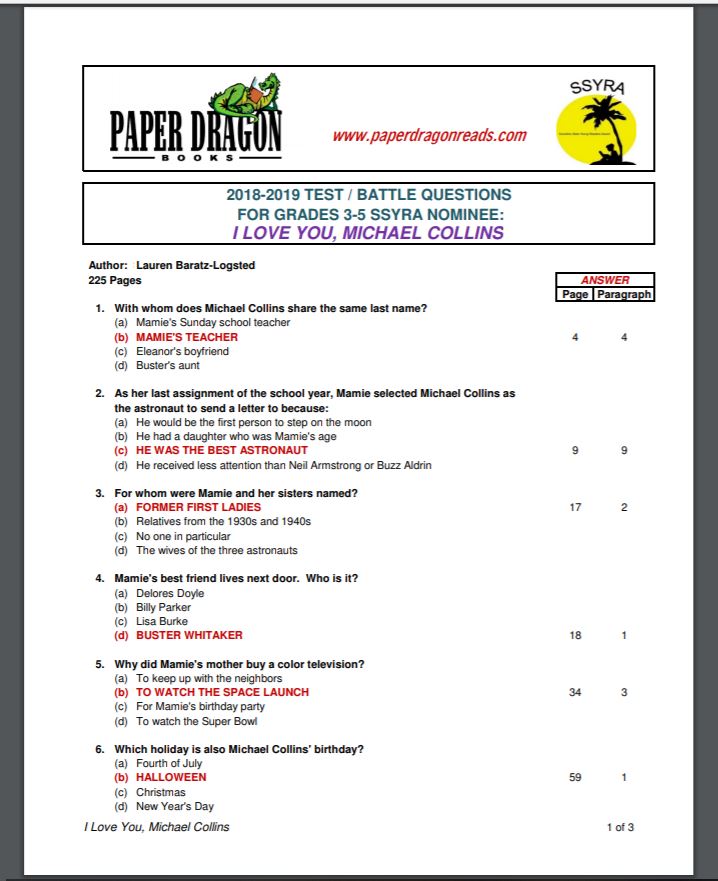 Again this new school year, Paper Dragon is offering professionally written Grades K-2 and 3-5 SSYRA book battle/test questions for your district's SSYRA competitions!
Each Test Questions Package contains a Teacher's Master Set, which contains highlighted answers and page/paragraph references, along with a Classroom Set for actual test-taking.
Please see the 2018-19 sample for the book, I Love You, Michael Collins, which includes four content-relative answer choices and page/paragraph references. For the 2019-2020 school year, each Teacher's Set contains a minimum of 25 questions for each book, and some contain Bonus and/or Discussion questions.  A Classroom Set for actual test-taking is also included.  Both sets have been formatted with a wider left-hand margin for easy organization in a 3-ring binder.
COMING SOON:  2020-2021 TEST QUESTIONS!
Purchase the 2019-20  Grades 3-5 SSYRA
Battle/Test Questions (15 book titles) – for only $55.00!
Buy online or call (813) 962-3879 to place your school site order. Paper Dragon accepts district purchase orders, P-Cards, and school checks. The test questions for each book will be e-mailed to you the same day!